Profile Information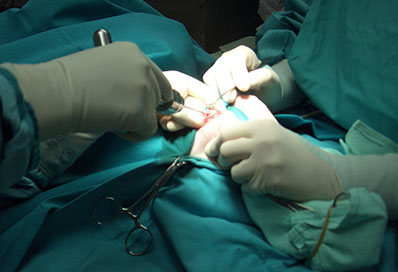 The Centre for Regenerative Medicine and Devices aims to achieve pioneering, patient-driven treatments and technological innovation in regenerative medicine and medical devices.
Responding to some of the most recognised socio-economic challenges, the centre focuses on scientific knowledge, diagnostics and treatments based on regenerative medicine and devices in six main priority areas: neurodegenerative diseases and sensory dysfunctions, diabetes, wound healing, cardiovascular diseases, musculoskeletal diseases and sensitive science.
The Centre for Regenerative Medicine and Devices focuses its medical research expertise on major clinical conditions and developing treatments. Our research brings deep scientific knowledge, allowing breakthrough innovation across clinical applications and key enabling technologies, as well as developing the role of public and patient participation. 
Our University of Brighton academic and postgraduate student members can be found on the profile pages.
We also have the following members from Brighton and Sussex Medical School: Dr Samira Bouyagoub, Professor Mara Cercignani, Dr Nicholas Dowell, Professor Gordon Ferns, Professor Pietro Ghezzi, Dr Snezana Levic, Dr Manuela Mengozzi,Dr Lisa Mullen.
Fingerprint
Dive into the research topics where Centre for Regenerative Medicine and Devices is active. These topic labels come from the works of this organisation's members. Together they form a unique fingerprint.
Network
Recent external collaboration on country level. Dive into details by clicking on the dots.

Ward, E. J.
, Lacey, J.,
Crua, C.
,
Dymond, M. K.
, Maleski, K., Hantanasirisakul, K., Gogotsi, Y. &
Sandeman, S.
,
10 May 2020
,
In :

Advanced Functional Materials.
2000841.
Research output: Contribution to journal › Article
Sandeman, S.
, Zheng, Y., Ingavle, G.,
Ozulumba, T.
, Howell, C. & Mikhalovsky, S.,
Jul 2020
,
Carbon Nanomaterials in Biomedicine and the Environment.
Mansurov, Z. (ed.). Singapore,
p. 271
286 p.
Research output: Chapter in Book/Conference proceeding with ISSN or ISBN › Chapter
Dimida, S.,
Santin, M.
, Verri, T., Barca, A. & Demitri, C.,
8 Jul 2020
,
In :

Open Biology.
9
,
7
,
p. 1-15
15 p.
, 159.
Research output: Contribution to journal › Article
Nadia Terrazzini (Reviewer)
Activity: Publication peer-review and editorial work › Editorial work
Nadia Terrazzini (Reviewer)
Activity: Publication peer-review and editorial work › Editorial work
Nadia Terrazzini (Reviewer)
Activity: Publication peer-review and editorial work › Editorial work