Profile Information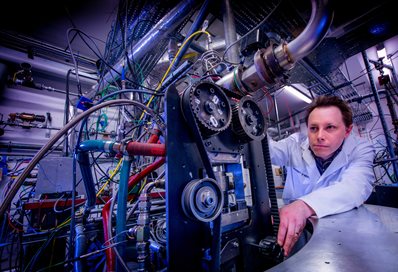 The Advanced Engineering Centre (AEC) is an internationally-recognised centre of research excellence with an established track record of pioneering research in applied thermofluids, including automotive engineering, heat transfer, sprays and two phase flows.
Led by Professor Morgan Heikal, the centre has an international reputation for producing innovative, future-facing research. We investigate and optimise complex engine combustion processes and develop laser-based measurement techniques, fundamental modelling and computational simulation. We work alongside global academics, industry leaders and policymakers to significantly impact the transportation, aerospace and medical sectors. Our focus is on applied research and development for the solution of industrial and commercial problems.  
Our research centre has built a 20-year partnership with Ricardo plc, culminating in the establishment of the world-leading Sir Harry Ricardo Laboratories (SHRL) and a rich, ongoing collaboration. We conduct pioneering work on novel low carbon internal combustion systems and have a direct environmental impact through creating greater fuel efficiency and developing ways in which to reduce CO2 and other harmful emissions.
Together with our numerous industrial partners, we continually invest in facilities, equipment and our researchers to help us build new capabilities, refine our modelling and simulation methods and exploit fully our joint expertise.
Our research team collaborates on a national and international scale, with more than 40 academic institutions and 30 commercial companies and receives a balance of funding from government, Research Councils and industry.
Fingerprint
The fingerprint is based on mining the text of the scientific documents related to the associated persons. Based on that an index of weighted terms is created, which defines the key subjects of research unit
Evaporation
Engineering & Materials Science
Engines
Engineering & Materials Science
Heating
Engineering & Materials Science
Heat pipes
Engineering & Materials Science
Biodiesel
Engineering & Materials Science
Engine cylinders
Engineering & Materials Science
Gasoline
Engineering & Materials Science
gasoline
Physics & Astronomy
Network
Recent external collaboration on country level. Dive into details by clicking on the dots.

29/06/18 → 28/06/21
Project: Grant
1/04/18 → 31/07/19
Project: Grant
Cattani, L., Mangini, D., Bozzoli, F.,
Pietrasanta, L.
,
Miche, N.
, Mameli, M., Filippeschi, S., Rainieri, S. &
Marengo, M.
,
26 Feb 2019
,
In :

Thermal Science and Engineering Progress.
10
,
p. 317-326
10 p.
Research output: Contribution to journal › Article › Research › peer-review
Probability density function
Sergei Sazhin (Keynote speaker)
24 Apr 2018
→
27 Apr 2018
Activity: External talk or presentation › Invited talk
Vladimir Zubkov (Presenter)
Activity: External talk or presentation › Invited talk
Sergei Sazhin (Keynote speaker)
16 Jul 2018
→
20 Jul 2018
Activity: External talk or presentation › Invited talk