Profile Information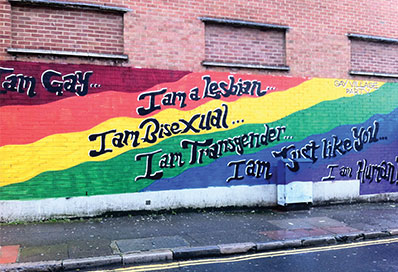 The Centre for Transforming Sexuality and Gender (CTSG) brings together researchers from across the University of Brighton who are working on themes related to sexuality, gender and social change with a core focus on producing research with community partners that impacts on policy and practice.
The CTSG has longstanding strengths in research relevant to LGBT Queer Lives as well as sex, sexuality and health, with other hubs of activity emerging. Many of our researchers have a shared commitment to feminist, post-structuralist and queer theoretical approaches and use a variety of methodologies that are participatory, visual and creative.
The centre offers researchers access to its own methodological space - The Creative Methods Lab - a brand-new and beautifully designed room where researchers meet to develop and conduct research, using state-of the-art visual and audio recording equipment. Centre activities are disseminated regularly via seminars and workshops. We also host a number of international conferences, and provide a lively and collegiate research culture to support doctoral students and academic staff alike.
Fingerprint
The fingerprint is based on mining the text of the scientific documents related to the associated persons. Based on that an index of weighted terms is created, which defines the key subjects of research unit
Catholic Church (Roman)
Social Sciences
European Union
Medicine & Life Sciences
Health Surveys
Medicine & Life Sciences
homosexuality
Social Sciences
Health
Medicine & Life Sciences
HIV
Medicine & Life Sciences
reference person
Social Sciences
youth education
Social Sciences
Network
Recent external collaboration on country level. Dive into details by clicking on the dots.

1/09/16 → 31/08/19
Project: Grant › Research
Zeeman, L.
,
Sherriff, N.
, Browne, K.,
McGlynn, N.
, Mirandola, M., Gios, L., Davis, R., Sanchez-Lambert, J., Aujean, S., Pinto, N., Farinella, F. & Donisi, V.
31 Oct 2018
p. 1-7
7 p.
Research output: Contribution to journal › Article
Mendick, H., Ahmad, A., Allen, K. &
Harvey, L.
22 Feb 2018
London.
216 p.
Research output: Book/Report › Book - authored
Roberts, J., Nixon, E., Perry, N., Richardson, D. &
Sherriff, N.
9 Jun 2018
1 p.
Research output: Other contribution
Jenzen, O.
(Member of programme committee),
Zeeman, L.
(Member of programme committee),
Frith, H.
(Member of programme committee)
Activity: Conference