Profile Information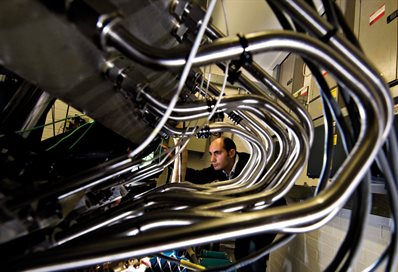 The School of Computing, Engineering and Mathematics is based in the Cockcroft building and the Advanced Engineering Centre building at the University of Brighton's Moulsecoomb campus.
Staff in the school lead research in diverse areas ranging from applied thermofluids to data analytics, mathematics to the digitisation of objects and environments, cyber security to values and sustainability.  We have invested heavily in research equipment and have state-of-the art facilities in, for example:  3D scanning and printing of digital heritage objects, automotive engine testing, fluid spray characterisation and heat transfer. The school also has a high-performance computing cluster.
We offer our services externally through expert consultancy and equipment hire.
The school's academics lead two of the university's Centres for Research and Enterprise Excellence (COREs): the Advanced Engineering Centre (AEC) and the Secure, Intelligent and Usable Systems (CSIUS). We also host four Research and Enterprise groups (REGs): the Applied Data Analytics REG, Mathematical Sciences REG, Nuclear Physics REG and the Values and Sustainability REG.
Fingerprint
Dive into the research topics where School of Computing, Engineering & Maths is active. These topic labels come from the works of this organisation's members. Together they form a unique fingerprint.
Network
Recent external collaboration on country level. Dive into details by clicking on the dots.

1/10/20 → 30/09/23
Project: EU / International
Ward, E. J.
, Lacey, J.,
Crua, C.
,
Dymond, M. K.
, Maleski, K., Hantanasirisakul, K., Gogotsi, Y. &
Sandeman, S.
,
10 May 2020
,
In :

Advanced Functional Materials.
2000841.
Research output: Contribution to journal › Article
Athinaiou, M.,
Mouratidis, H.
,
Fotis, T.
&
Pavlidis, M.
,
22 Feb 2020
,
Computer Security - ESORICS 2019 International Workshops, CyberICPS, SECPRE, SPOSE, and ADIoT, Revised Selected Papers: In conjunction with ESORICS 2019.
Katsikas, S., Katsikas, S., Cuppens, F., Cuppens, N., Lambrinoudakis, C., Gritzalis, S., Kalloniatis, C., Mylopoulos, J., Antón, A., Pallas, F., Pohle, J., Sasse, A., Meng, W., Furnell, S. & Garcia-Alfaro, J. (eds.). Cham:
Springer
,
p. 140-158
19 p.
(Lecture Notes in Computer Science (including subseries Lecture Notes in Artificial Intelligence and Lecture Notes in Bioinformatics); vol. 11980 LNCS).
Research output: Chapter in Book/Conference proceeding with ISSN or ISBN › Conference contribution with ISSN or ISBN
Picco, M.
&
Marengo, M.
,
6 Apr 2020
,
Proceedings of Building Simulation 2019: 16th Conference of IBPSA.
International Building Performance Association
,
p. 1296-1303
(Proceedings of the International Building Performance Simulation Association).
Research output: Chapter in Book/Conference proceeding with ISSN or ISBN › Conference contribution with ISSN or ISBN
Panagiotis Fotaris (Member of programme committee)
21 Nov 2020
→
22 Nov 2020
Activity: Events › Conference
Panagiotis Fotaris (Member of programme committee)
22 Oct 2020
→
23 Oct 2020
Activity: Events › Event