Profile Information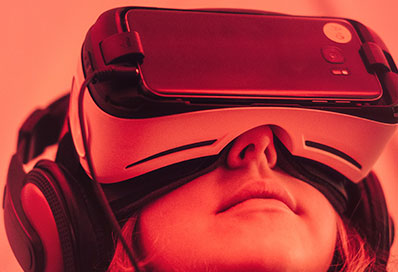 The Centre for Digital Media Cultures conducts impactful research that helps society understand and adapt to changes in digital media and data technologies. This interdisciplinary knowledge spans computing, social science, media, art and design, and focuses on the cross-cutting theme of digital.
We inform practice, research and policy through developing key local, national and international partnerships, cutting across the industrial, public, third and academic sectors.
We work closely with the Digital Catapult Centre Brighton, placing us as a key player in research driven SME innovation for next generation digital products and services. Funded by Innovate UK, it aims to help convert university-led research and development into commercialisable market opportunities, prototyped by small companies in the creative digital and information technology sector.
Centre members maximise the impact of their research, by engaging with community partners and members of the public through public commentary, art exhibitions, crowd-and community sourcing activities, co-production of design and other activities that influence public policy and make a difference for industry.
Fingerprint
Dive into the research topics where Centre for Digital Media Cultures is active. These topic labels come from the works of this organisation's members. Together they form a unique fingerprint.
Network
Recent external collaboration on country level. Dive into details by clicking on the dots.

Marandet, E., Barratt, H. &
Fotopoulou, A.
,
16 Jun 2020
,
In :

The Polyphony: CONVERSATIONS ACROSS THE MEDICAL HUMANITIES.
Research output: Contribution to journal › Article
Karageorgiou, Z., Mavrommati, I.,
Fotaris, P.
& Christopoulou, E.,
13 Oct 2020
,
Proceedings of the 5th South-East Europe Design Automation, Computer Engineering, Computer Networks and Social Media Conference (SEEDA-CECNSM).
Corfu, Greece:
IEEE
,
p. 1-8
8 p.
Research output: Chapter in Book/Conference proceeding with ISSN or ISBN › Conference contribution with ISSN or ISBN
Winter, M.
&
Jackson, P.
,
10 Jul 2020
,
Design, User Experience, and Usability. Design for Contemporary Interactive Environments - 9th International Conference, DUXU 2020, Held as Part of the 22nd HCI International Conference, HCII 2020, Proceedings: Design for Contemporary Interactive Environments.
Marcus, A. & Rosenzweig, E. (eds.). Cham:
Springer LNCS
,
Vol. 12201
.
p. 175-193
19 p.
(Lecture Notes in Computer Science (including subseries Lecture Notes in Artificial Intelligence and Lecture Notes in Bioinformatics); vol. 12201 LNCS).
Research output: Chapter in Book/Conference proceeding with ISSN or ISBN › Conference contribution with ISSN or ISBN
Panagiotis Fotaris (Member of programme committee)
21 Nov 2020
→
22 Nov 2020
Activity: Events › Conference
Panagiotis Fotaris (Member of programme committee)
22 Oct 2020
→
23 Oct 2020
Activity: Events › Event