Profile Information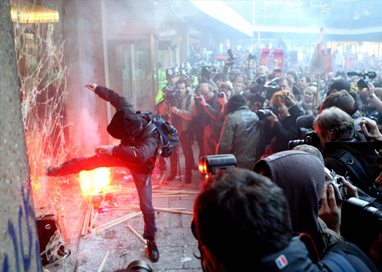 Centre for Applied Philosophy, Politics and Ethics was founded in 2005. It researches the links between philosophy, critical theory, global ethics, other disciplines and the wider public.
Rigorous intervention in the public arena aims to extend the practice of philosophy beyond its academic boundaries. We host regular public events bringing debates in contemporary philosophy, politics and ethics to a wider audience. As an interdisciplinary centre CAPPE works with colleagues across the university, in the City of Brighton where we are based and with institutions across the globe. Our collaborative work and partnerships extend from Brighton to Stockholm, Buenos Aires, Ghent, Johannesburg, San Francisco, Verona and many other institutions.
The Centre is open both to collaborative proposals, whether small- or large-scale, and to proposals to join CAPPE as a Visiting Fellow from periods between one-week and a year. Anyone interested in working with us should contact the Director, Prof Bob Brecher: r.brecher@brighton.ac.uk or Dr Mark Devenney: m.devenney@brighton.ac.uk
Fingerprint
The fingerprint is based on mining the text of the scientific documents related to the associated persons. Based on that an index of weighted terms is created, which defines the key subjects of research unit
Social Movements
Social Sciences
criminalization
Social Sciences
neoliberalism
Social Sciences
critical theory
Social Sciences
Network
Recent external collaboration on country level. Dive into details by clicking on the dots.

Maasri, Z.
,
2020
, (Accepted/In press) (The Global Middle East)
Research output: Book/Report › Book - authored › Research › peer-review
Woodford, C.
,
10 Feb 2019
, (Accepted/In press)
In :

Review of Politics.
81
,
2
,
p. 1-3
3 p.
Research output: Contribution to journal › Book Review › Research
Primera, G. E.
,
2019
, (Accepted/In press)
An Italian Philosophy Reader.
Lewis, M. & Rose, D. (eds.). New York
Research output: Chapter in Book/Conference proceeding with ISSN or ISBN › Chapter › Research › peer-review
Clare Woodford (Presenter)
Activity: External talk or presentation › Invited talk
Catherine Bergin (Presenter), Anita Rupprecht (Presenter)
Activity: External talk or presentation › Oral presentation
Clare Woodford (Invited presenter), Gulshan Khan (Presenter)
Activity: External talk or presentation › Invited talk